Epoxy flooring has been widely used in industrial and commercial applications such as warehouses, production areas, and workshops for quite some time. Today, its uses and applications have made its way into homes where it's used in garage floors to increase durability and performance and to ensure it withstands heavy loads. Most people use epoxy floor coating to seal concrete surfaces and renovate their garage floors. This epoxy coating not only protects the garage floor surfaces but also provides a glossy finish. This coating contains additives such as polyamine hardener and epoxy resin that provide enough endurance and stability to garage floor surfaces.
Below are the top 10 advantages of having epoxy on your garage floor:
1. Provides Maximum Floor Protection
There's no better way to protect your garage floor surface than with an epoxy flooring application. Epoxy being a sealant provides an excellent shield on the floor surface. During the application of the epoxy coating, the installation contractor ensures that it forms a thick and sheet-like layer. This shield is essential in ensuring that there are no cracks and wear and tear on the concrete. Additionally, epoxy flooring keeps stains and other defects from forming.
2. Enhanced Elegance
Epoxy floor coating can help in transforming and improving the elegance of your garage floor. This coating also plays a significant role in covering other garage floor defects that might have occurred in the past. If your garage floor has damage or noticeable imperfections, consider getting the epoxy color of interest to increase the masking effect. For better traction, garage owners have the option of adding a quartz or mica finish. Another design and color consideration is a metallic coating. This has a very glossy shine to it, and looks absolutely amazing!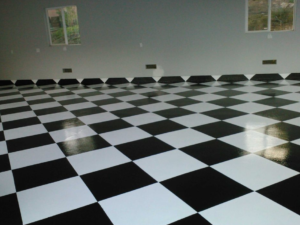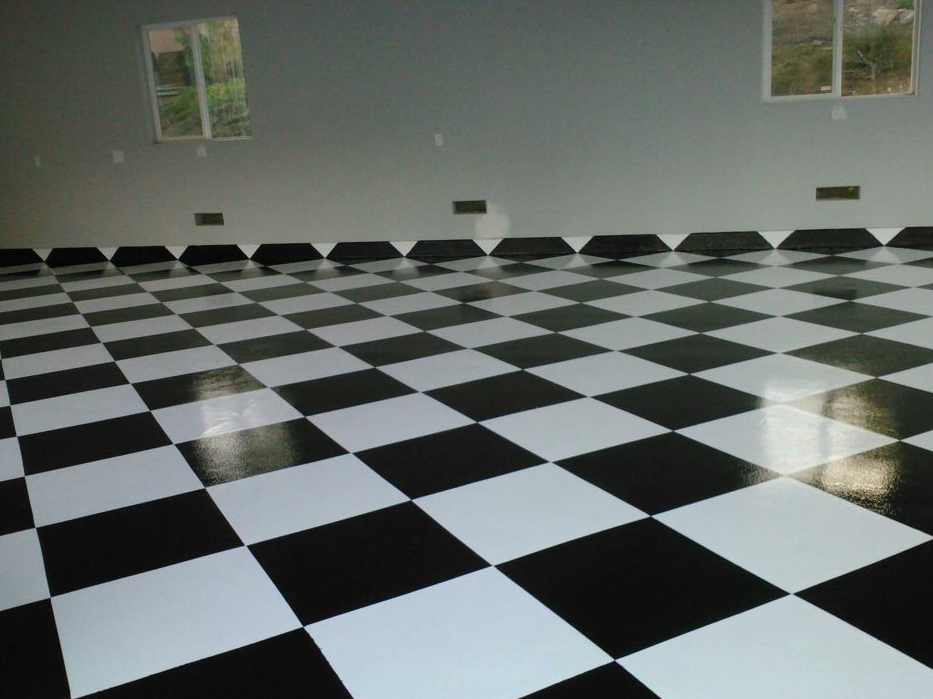 3. Easy Installation
Epoxy floor coatings are very easy to install. However, it's essential for garage owners to hire an expert for proper installation and avoid doing the installation by themselves. The installation of epoxy flooring doesn't require any special layout, tools or equipment.
4. Provides Resistance
Using epoxy floor coating protects the concrete surface from harmful elements on your garage floor. It's resistant to a number of elements such as heat, water, shock and chemicals. First, epoxy has a 200° Fahrenheit heat resistant capacity which means that it's able to withstand high heat levels in case of a fire outbreak in your garage. On the other hand, epoxy is water-resistant, meaning that any water spills can't cause damage to your garage floor. Thirdly, it's shock-resistant, meaning that it can withstand heavy loads without causing wear and tear on the garage floor. Lastly, epoxy is chemical resistant. Most fluid spills from your car or other chemicals won't affect your garage floor. In fact, epoxy flooring makes chemical cleaning very easy and straightforward.
5. Provides Surface Strength
Epoxy flooring can withstand heavy loads. Epoxy coating is more than just a sturdy adhesive coating. When combined with concrete, it increases the surface ability to sustain heavy loads for an extended period. Generally, research has shown that the strength of concrete can be increased by more than 3 times when epoxy is applied. The strength not only endures heavy objects on the surface, but also reduces the risk of wear and tear of the concrete in the garage floor.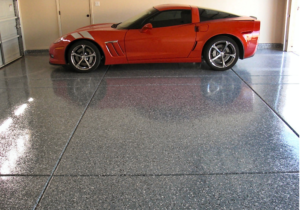 6. Enhances Safety
Regardless of the flooring option you choose, safety is critical. Unlike other flooring options, epoxy flooring increases visibility in your garage. The increased visibility is a safety precaution because and allows garage owners to have a clear view of the entire space. The shiny appearance also increases garage lighting, which is key in noticing bumps or cracks on the floor. Epoxy flooring also increases traction that eliminates the risk of slip and fall accidents. 
7. Easy to Maintain
Epoxy flooring doesn't require much maintenance compared to other flooring options. Since the coating covers the garage floor concrete completely, you won't notice dust particles on your floor surfaces. This means that although floor cleaning is required, the frequency won't be much at all, unlike garages with other flooring applications. The only downside is any particles that are dragged into your garage floor from your car might need an extra mopping. You only need water and detergent to clean your garage floor. Epoxy floors are also scratch-resistant.
8. Epoxy Has a Long Lifespan
Unlike other flooring options such as tile, vinyl and wood flooring, epoxy flooring can last for a relatively long period. This is because of its resistance and protective features. People who want a long-term garage flooring solution should consider epoxy flooring since it's cost effective and worth the investment.
9. It's an Eco-Friendly Flooring Option
Epoxy is an eco-friendly chemical compound. Its components don't have any negative effects which make it a long-lasting solution. Its long lifespan means that its use isn't consistent, unlike other flooring materials. It's a green flooring option that doesn't require many materials, and can be applied relatively quickly.
10. Affordability
Epoxy flooring is very cost effective compared to other flooring options such as vinyl and tile flooring. When applying epoxy coating, the existing flooring material isn't necessarily removed, meaning that it's not costly, unlike other garage flooring options. Your garage floor will have a shiny and smooth surface without spending too much money. Most people who don't opt for an Epoxy application, but are budget minded consider epoxy floor polishing instead. Additionally, other flooring options require a lot of time during installation until completion. We believe it's essential to hire an expert to do a proper Epoxy application to avoid making costly mistakes yourself.
In conclusion, these are the top 10 advantages of having epoxy on your garage floor. Regardless of the existing condition of your garage floor, you can improve it's appearance, strength and safety by getting an epoxy flooring application completed. People living in colder climates can use this flooring to ensure their garage floors remain in excellent condition without worrying about the external elements. When choosing a professional epoxy flooring contractor, it's essential to consider how long they've been in business, the quality of work they do, they're reputation, and area of specialization.