Competitive Pricing – All costs are basen on per square foot. The application cost of a polished concrete floor is comparable to vinyl sheeting, about twice as much as vinyl composition tiles, about half as much as ceramic tile, and about a third of the cost of terazzo or epoxy flooring. Yearly maintenance of polished concrete is slightly less than 1/3 the cost of the maintenance of quarry tile, 1/5 of vinyl sheet goods or terazzo, and less than 1/7 of vinyl composition, ceramic tile, or epoxy floor maintenance costs.
You can expect polished concrete floors to last nearly indefinitely.  However, epoxy floors can only be expected to last about 5-10 years while vinyl sheeting and vinyl composition tile last about ten years, and the other kinds of flooring, ceramic, quarry tile, and terrazzo, last roughly about 20 years.
The total expense over 20 years for quarry tile is nearly 3x that of polished concrete, and slightly more than 3x for both vinyl sheeting and vinyl composition, 4x for ceramic tile, and 5x that for polished concrete and for epoxy and terrazzo. 
Polishing can give a degree of shine that achieves a marble or granite-like finish or can be ground down to expose the aggregate in polished granite for a terrazzo-like look for a fraction of the cost.  As you can see, both in the short- and long-run, polished concrete offers the most competitive pricing. As we cover the 12 Benefits of Having a Polished Concrete Floor, you'll notice a pattern……and that it's a great value. 
Stain Resistant – Densification, also known as compaction, the process of cementing together the sediment that makes up concrete, creates a hard, non-porous surface that is stain resistant. Polishing the concrete closes the pores. Spills do not seep into the concrete and are easily wiped up because of its denseness.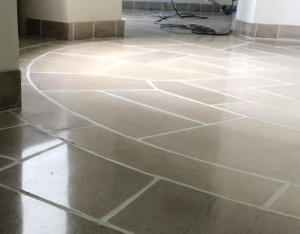 Low Maintenance – Resistant to fluids, stains, oils, and abrasions, polished concrete floors are wiped clean easily with just water and a mop. They are durable and long-lasting. No expensive cleaning agents are necessary. This means having polished concrete floors lowers your maintenance costs while still providing stunning flooring in your building.
Dust cannot accumulate on them making them a safe choice for allergy and asthma sufferers since they are anti-allergenic with no use of Volatile Organic Compounds (VOC) in construction. They are safe for families as well as the environment.
The stripping and waxing that is required with other kinds of hard flooring puts harsh, toxic chemicals into the air. Polished concrete also eliminates mold and mildew that can accumulate on other flooring applications in damp areas.  
Ideal for New Homes or Business Restoration Projects – In addition to the many appealing factors listed here, polished concrete is an excellent choice in new homes because of the sleek industrial look that complements contemporary construction and décor.
For businesses, it's a cost-effective way to restore floors without interrupting business flow or the operations. In the long run, it saves the company money on day-to-day maintenance, endurance, and upkeep. For both home and business, it's the environmentally responsible flooring choice.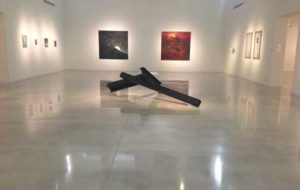 Environmentally Friendly – No Volatile Organic Compounds (VOCs) are used. The non-hazardous products used for stain protection and chemical densification are not a threat to the environment like harsh epoxies or toxic glues used for VCT (vinyl tile). The already existing concrete slab is utilized creating an environmentally friendly project with a low carbon footprint. Daily maintenance is done with a mild detergent which can be environmentally friendly helping homes and businesses stay green and maintain as small a carbon footprint as possible.
Long Life Span – These elegant floors, if maintained properly, can virtually last forever making them highly affordable. Unlike other flooring applications, there is no coating to fail. It never requires stripping or waxing. It never flakes or peels at the surface because there is no coating. The finish is within the concrete itself. Can you afford not to have polished concrete floors?
Slip Resistant – Polished concrete floors slip-resistant surfaces make them safe. However, their smooth and glossy surfaces have made architects and customers question the Concrete Polish Council as to the safety and slip resistance of their surfaces. In a complex study comparing aggregate and gloss levels of 16 finish types in triplicate for a total of 48 sections, even the very highest gloss levels passed the DCOF (dynamic coefficient of friction) required for slip-resistant safety.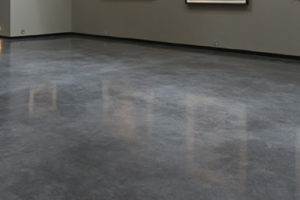 Fire Resistant – This seems like a no-brainer. Everyone knows concrete doesn't burn. As you would expect, It earned the highest fire resistance classification (Class A1) for construction products and building elements. Materials classified as A1 are non-combustible and meet the requirements for all other classifications as this is the highest fire resistance classification.
Creative Color Choices – Each floor is unique. You get an endless variety of colors and textures with polished concrete. It can imitate granite or marble at a fraction of the cost and much simpler maintenance since it only requires a mop and a mild cleanser. It's also much more environmentally friendly than either of those options. Polished concrete can also be ground down to aggregate to look like Terrazzo.
It can have a matte, gloss, or high gloss finish. You can choose from an endless variety of colors.  You can have staining that mimics ceramic tile in as complicated a pattern as desired. You can have graphics inlaid that incorporate your company logo or directs patrons to a particular destination like the yellow brick road. The possibilities are only as limited as your imagination – or your designer's. 
Improved Appearance – Because of the many finish options available when polishing a concrete floor, applying this finishing method will greatly improve the appearance of any concrete floor.
No Facility Shutdowns – Polished concrete requires little to no shutdown of facilities during the application process saving your company time and money.
Increased Durability – Long life span and increased durability go hand in hand. Not only is the concrete more durable but the smoother surface of polished concrete is less wearing on forklift and pallet jack tires and more suitable for heavy traffic.
DISCOVER THE DIFFERENCE WITH EPOXY FLOORING PROS – (248) 759-8055 FOR A FREE ESTIMATE